Do you want to install an access ramp for a person with reduced mobility?
Are you afraid that you may not be up to the task? No need to panic! No need to call your cousin the engineer or your know-it-all great uncle either. The following is a short, step-by-step guide that will walk you through the process of installing an access ramp yourself, whether it's a removable ramp, door threshold ramps, or a modular ramp.
Are you ready? Let's get started.
List of tools you will need to install your ramp:
A screwdriver, a laser level (or a Smartphone level app), a traditional level, a circular saw, a flat key, the hardware and parts included in the kit, and that's all you'll need.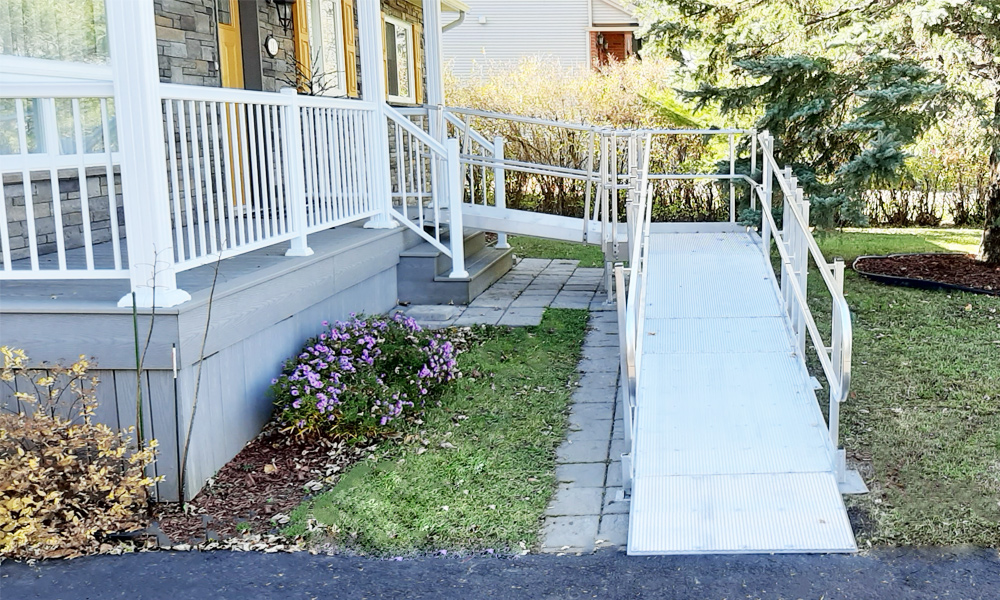 Preparing the terrain:
Be sure to adequately prepare the area where you will install the ramp so that your work will not be uninterrupted once you've started.
To do this, you will need to:
plot the position of the ramp
clear the designated area of obstructions, such as rocks, plant growth, or shrubs etc.
calculate an incline ratio of 1 :12 (this means that for every inch of incline, you must factor 12 inches of ramp length). If the ground itself is significantly inclined, a ratio of 1 :15 is recommended.
factor in a resting platform at every 9 meters of ramp length (29 feet and 6 inches) as well as an upper landing of 1.5m x 1.5m (1.5m x 2.13m if the door opens in the direction of the ramp).
Installing the ramp:
You are now ready to install the ramp. The following is a detailed, step-by-step guide to walk you through the installation process.
Step 1: Install the first segment of the ramp in line with the height of the top of the staircase. Set the correct degree of inclination (1 :12) by means of the adjustable supporting posts.
Step 2: Install the remaining segments in alignment with the first. Connect the segments to each other using the hardware supplied in the kit and make sure that the bolts are adequately tightened. Don't forget to factor in a horizontal (or resting) platform when you have reached 9 meters of ramp length.
Step 3: With a circular saw, cut off any excess height from the supporting posts.
Step 4: Assemble and attach the safety railings to the ramp using the junction pieces and hardware provided in the kit, as well as the self-tapping screws.
And there you go! You have successfully installed your acces ramp.
The beauty is that our aluminum access ramps require no special maintenance. The simple sweep of a broom to remove any leaves in the Fall or snow in Winter and the job is done.
Your ramp is now ready and safe for use and you can brag to friends and neighbors that you installed it yourself.