Climbing the stairs of your home when you are disabled or when your mobility is reduced can quickly become a nightmare. Our stairlift chair can be your best ally in simplifying your life and making it easier for you to get around.
Life changes and evolves, and that's what makes it interesting. But if you are occasioned by problems of limited mobility, it's an entirely different story.
All kinds of things in your home suddenly become obstacles: the front door and the outer steps leading to the stoop, access to the patio or balcony, or even the stairs inside the house that allow access to the other rooms.
In short, the home that you love so much can, from one day to the next, become restrictive and turn into your worst enemy.
Selling your home might seem like the best and most obvious option; however, whether for sentimental or financial reasons, this is a difficult decision that we are not always prepared to make.
The Stairlift Chair: to Prolong Accessibility and Your Autonomy within Your Home
Go Rampe understands the importance your home represents for you. That's why we provide the option of our stairlift chair to people who are disabled or of reduced mobility. This comfortable and safe product makes it possible for you to negotiate indoor staircases, andin turn, will allow you to keep your house for a long time to come.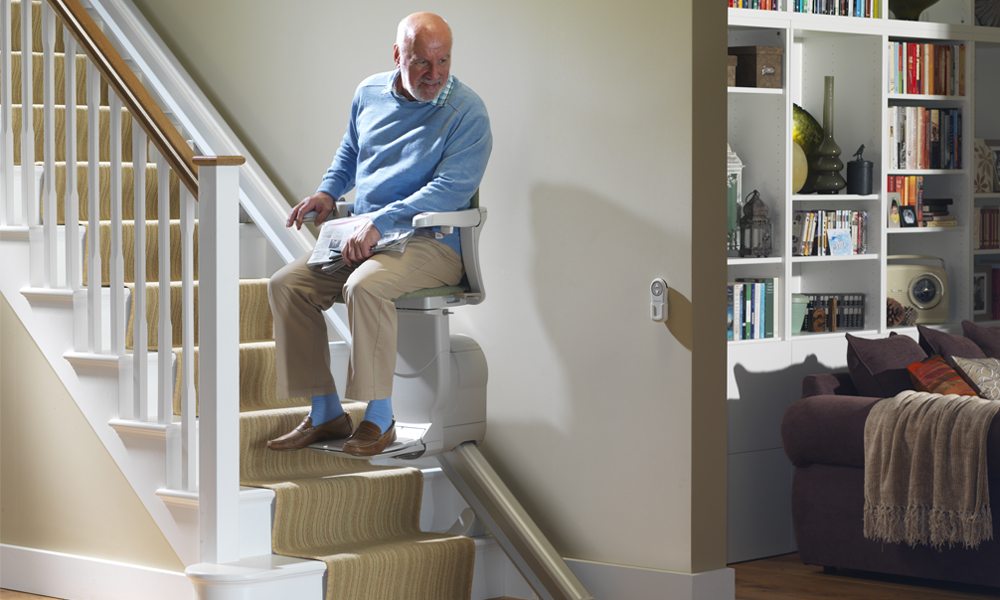 Equipped with a safety belt, our electric stairlift chair is designed to get you to the desired floor with the greatest of ease and security. It is also fitted with an obstacle detector to prevent any possible risk of collision with an object or person that might be in the stairway when the chair is ascending or descending.
The footrests, seat, and armrests of our stairlift chair can easily be folded so that the stairway may be kept clear for other members of the household when the lift is not in use. In addition, the pivoting seat allows the user to get on and off the chair very easily and safely.
A Stylish and Comfortable Stairlift Chair
Our stairlift chair is not only safe it's also stylish! Its clean, elegant lines and ivory colouring can blend in with any decor and style of home.
With its guarantee of comfort and security, the Go Rampe Stairlift Chair will quickly become an integral part of your home and of your daily life.
Questions of mobility should never be a determining factor in your living space. Go Rampe has all the products you may require in order to adapt your home to all of your mobility needs so that you may retain your autonomy and enjoy your home in complete safety for a long time yet.
What You Need to Know about the Go Rampe Stairlift
How much does it cost to install a stairlift chair?
The price is determined based on the configuration of the stairway. The price varies depending on whether the stairway is straight, curved, or any other specification.
Note that a stairlift is nontaxable and that governmental assistance, in the form of tax credits of 20 to 30%, is available.
What happens if there is a power outage?
In the event of a power failure, your stairlift chair will continue to function as it is equipped with two emergency batteries. You will therefore still be able to access the stairs in your home without any problem.
What do I do if I am at the bottom of the stairs and the stairlift chair is at the top?
In addition to the control switch that is directly on the chair itself, the stairlift chair comes with two remote controls so you can easily summon it when you need it.
Can the stairlift be adapted to any type of stairway?
Go Rampe feature several different models of stairlift chairs that can be adapted to the various staircase configuration. In any case, whether your staircase is straight or curved, it must be a minimum of 28 inches in width for installation to be possible.
How long does it take to install?
Depending on the model chosen, the installation of your stairlift chair will take between 3 and 5 hours so you can start using it the very day of its installation.
Does the stairlift come with a guarantee?
Absolutely! Go Rampe offer a 1-year guarantee on parts and labour. We also offer a maintenance plan.